Loremasters: Wowgain & Pinkbat5
Shifters, true to their common fringe name, have appearances that vary wildly. Their 'default,' however, is a body rippling with living, bright red muscle tissue, rudimentary eyes, breathing holes, sinewy limbs and a sharp-toothed maw, all placed in convenient locations. Veins are visible underneath a translucent, waxy 'skin', and visible bones may plate the body near their center of mass. By default, shifters have an excellent sense of smell and taste, but poor hearing and monochromatic, low-light vision. Quadrupedal forms are often considered the "default."
Shifters are shapeshifters by nature, and can change their appearance as they assimilate other species. The imitation of other organic races is extremely common, especially outside of shifter territory– this is especially true of infected individuals, which often choose to retain their original appearance with only slight modification.
All shifters (with the exception of imitators) must retain their waxy cuticle, which protects them from overheating and damaging UV rays. This cuticle gives their skin a waxy sheen and texture, giving away any shifter that intends to pass as uninfected. Alongside the cuticle, all shifters must also retain a functioning digestive tract, circulatory system, and healthy central organ to survive.
Shifters that were not born from the infection of a sentient organic race can have difficulty perfectly mimicking the intricacies of the organs, muscle groups and bone structure of an organic race, and can appear 'off' upon close inspection. If the genome of the organic race is acquired by the shifter, this becomes somewhat easier.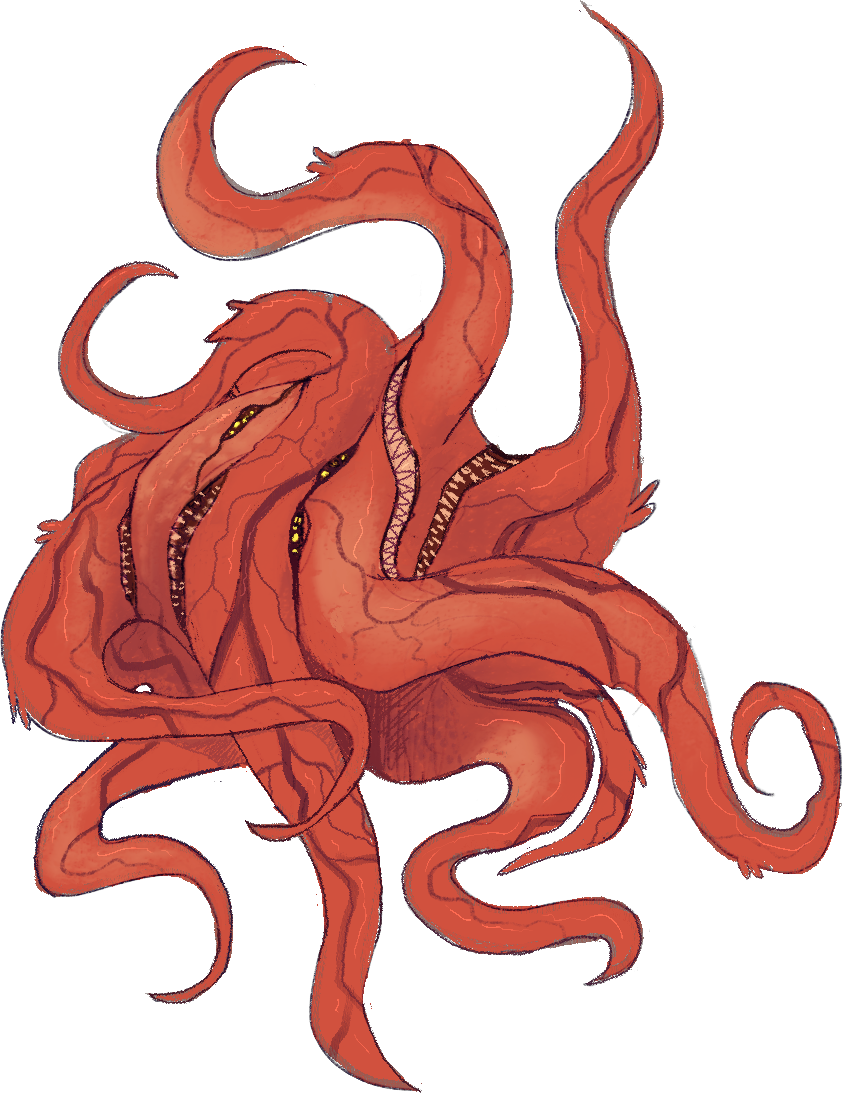 A shifter expressing no alien genes, with the exception of some orange carotene pigment in their skin and green pigment in their eyes.
Art by Pinkbat5.
The shifter species is infectious and spreadable in the form of a transmissible virus, which can be injected into the bloodstream of any viable host species. Viable hosts can be sapient or nonsapient, as long as they are carbon based, have left-handed amino acids, four-nucleotide double-helix DNA, breathe oxygen and are eukaryotic.
The shifter virus is a giant virus, and contains enough tightly coiled DNA to code for an eukaryotic animal. Upon infecting a viable cell, the virus integrates its massive genome into the cell's. The infected cell produces the new cellular machinery typical of shifter biology, and either begins virus production or not, depending on cell type and how many cells around it are also infected. Neuron cells will produce small amounts of the shifter virus without lysing, while some immune and blood cells will produce enough viruses to burst and die.
Upon infection, the average humanoid host has approximately half an hour before the virus reaches their torso, assuming they were injected in an extremity.
Infection comes in three stages:
Stage 1 lasts 3-5 days, and marks the period of time where the virus multiplies and spreads throughout the body– causing minimal damage, but still triggering the immune system. At first, infectees may experience nausea, muscle weakness, fatigue, excess hunger, malaise or headaches. Near the end of the stage, as viral concentration in brain and nerve tissues increase, the headaches worsen and seizures can occur. Small, circular bruises appear under the skin as viral activity damages capillaries. As the virus is still multiplying at this stage, the host has a moderate chance of spreading the virus should blood-to-blood contact occur. Stage one ends when the virus triggers a deathlike coma following a complete shutdown of all brain activity.
Stage 2 lasts 3 days, and is characterized by the complete restructuring of the host's internal organs. While the bones, digestive tract and some muscle tissues are left untouched, the remaining tissues inside the host body are liquified and gradually restructured into a central organ. Miraculously, this process preserves almost all pre-infection neural connections, much like how butterflies retain memories and knowledge from their lives as caterpillars– this is done by migrating the neural tissue in "chunks" and meticulously restoring connections. Once stage 2 has begun, the host can no longer be cured. Any attempt to curb the spread of the virus will kill them, and the brain is too restructured to be scanned. Additionally, cutting open a host at stage 2 is inadvisable– the resultant organ slurry contains a high viral load, and is extremely infectious. Hosts undergoing stage 2 appear to be dead, and in some cases slightly bloated, like a waterlogged corpse– the torso and abdomen will sag and lose shape, and skin may discolour and appear consistently bruised. In the last hours of stage 2, the cuticle forms, giving the host the distinctive "shiny skin" appearance.
When a host reaches stage 3, they are considered a full-fledged shifter. They lose their bruised, discoloured appearance and reawaken, often with temporary side effects such as confusion, anxiety, paralysis and amnesia. Virus production in the body ceases completely– while the genes for viral production are still present in shifter cells, they are epigenetically deactivated. Approximately two days after reawakening, a shifter may be considered completely virus-free.
Shifters can consciously choose to produce the shifter virus in the form of a foul-smelling injectable fluid. The virus cannot survive for longer than half an hour outside of this infectious fluid, and must be directly injected into the bloodstream of a creature to infect them– inhalation or ingestion does not spread the virus. Shifters that wish to spread the virus without the infectee's consent will often load the fluid into a small stinger, spine or fang. On occasion, spines containing viral fluid will grow on freshly awakened shifters without their intention, and must be surgically removed.
¶ The Body, Shapeshifting & Genes
All shifters contain a central organ, which consists of a bundle of neural tissue closely connected to a powerful heart, a sac containing stem cell cultures that may be used in shapeshifting, and a swath of tissues that perform many of the functions found in a human liver. This central organ is the only organ that will immediately kill a shifter if destroyed. The loss of respiratory tissue can also be fatal if the shifter cannot repair the damage in time, and the loss of the digestive tract or urinary system can be problematic if the shifter lacks the energy to regenerate it.
The 'central' nervous system of shifters, while primarily clustered near their central organ, is more decentralized than that of a human's– dispersed somewhat through their entire body, much like the CNS of arthropods and cephalopods. Limbs containing some of this nervous tissue will move on their own even after removal, and can occasionally cause memory loss when severed. Similarly, the typical respiratory system of a shifter is also dispersed, composed of a system of highly vascular and muscular pores which draw in oxygen and distribute it throughout the body.
Shifters are extremely vulnerable to heat weaponry. Their body contains an oil that normally serves as an antifreeze and insulating agent, allowing survival in extreme cold. However, this oil is also extremely flammable, causing any shifter that catches fire to light up like a torch and burn to death in minutes. There is very little that can be done to protect from this vulnerability in terms of bodily modification– most Fringe shifters wishing to protect themselves will instead simply wear standard humanoid heat-resistant armour, sacrificing mobility and fluidity of form.
Shifters may shapeshift by rapidly breaking down the tissues in any part of their body and replacing it with new tissues produced from central organ stem cells, which multiply and organize at superhuman speeds– it takes approximately fifteen minutes for a non-warrior shifter to grow anything the size of a human arm, and ten to reabsorb it back into the body. However, the traits shifters can develop is limited by two things– complexity, and genetics. Firstly, some traits– such as the perfect mimicry of a human arm, down to every muscle, nerve, bone and ligament– take time to develop accurately and may require some trial and error, depending on the skillset of the shifter. Secondly, shifters cannot develop traits that they do not have the genetic code for. A shifter that lacks the genes for human hair cannot grow any, for example. Shifters that were naturally born do inherit all the genes of their parent, and shifters that were spawned from infection retain all the genes of their old species, but there is a second way to acquire genes– the consumption of raw alien flesh.
Shifters can "steal" the genetic code from other organisms by acquiring half a pound of their living or freshly dead cells and extracting the DNA. This is most commonly done by dissolving the cells with specialized enzymes, absorbing the slurry with a specialized lining, and transporting the genetic material to the stem cell sac of the central organ, which then incorporates the DNA into the shifter's growing genome. This updated genome is then slowly spread to all other cells of the body over the course of two days– though newly shapeshifted limbs/features will automatically have the latest genome, and can use the new genes immediately.
Once a shifter has acquired a gene, they may give it to other shifters by secreting a DNA-rich fluid onto their absorptive lining. While this exchange of genetics only takes one or two minutes, it takes approximately a day to produce the DNA fluid before transfer. Shifters may also directly steal the genomes of their kin by forcibly removing and assimilating their flesh.
Shifters have six biological castes, each with their own unique abilities– husks, imitators, warriors, integrators, drones and royals. When an individual is infected or born, they have a random chance of becoming any of these castes– though some castes appear more frequently than others.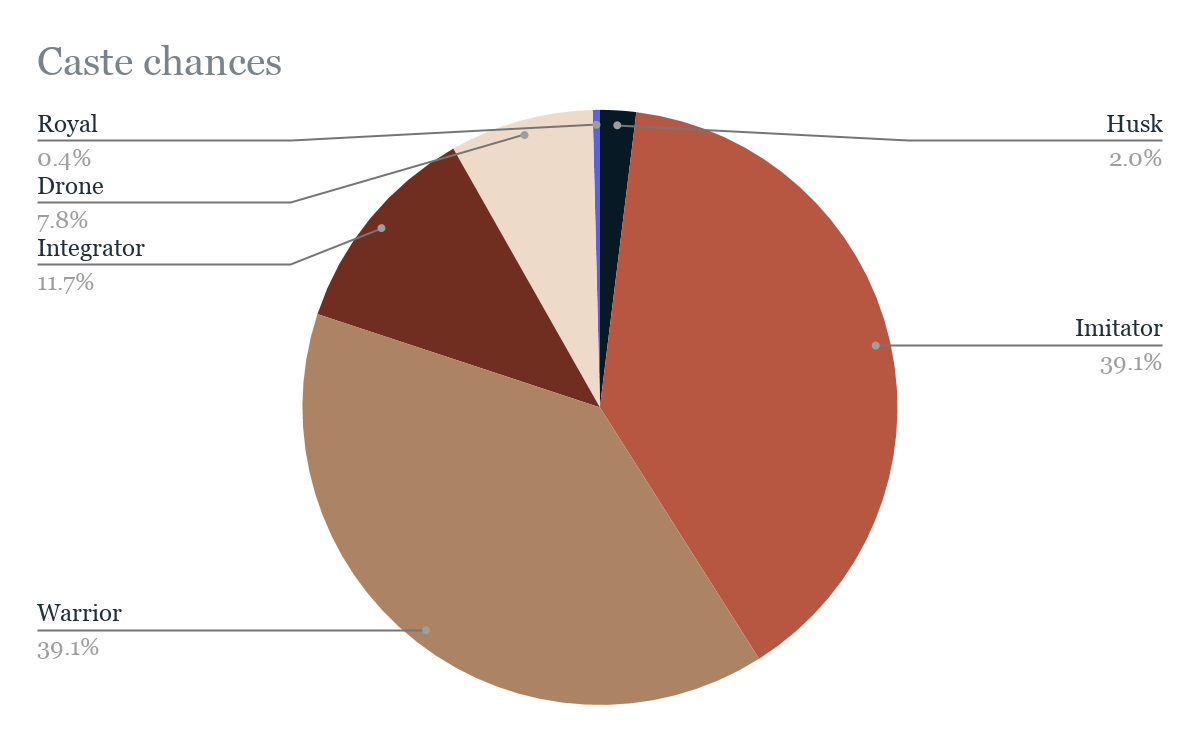 Husks are technically not a caste– rather, they are the result of a failed transformation. They occur when the brain-restructuring process in stage 2 of infection is disrupted, or otherwise fails due to genetic mutation. The result is a nonsapient shell of the host's former self, which avoids everything that doesn't smell or taste like another shifter. Drone and royal shifters can, to a limited extent, cause them to attack others with pheromone production, but for the most part husks are a dangerous mistake that only sees use in meat-harvesting and medical experimentation.
Certain Fringe shifter hives were once notorious for intentionally producing husks for military purposes. However, this practice was abandoned when holy fire was produced and spread amongst the shifter population; husks, with faulty immune systems and the inability to give themselves resistance to the disease, died out rapidly. The viral strain that survived holy fire produces husks that are significantly less intelligent and dangerous than before, and no longer attacks non-shifters on sight.
Imitator shifters are the only shifter caste that can survive without a cuticle, due to a combination of overactive DNA repair genes and superior heat regulation. While they are slightly more vulnerable to both cold and hot weather when this cuticle is absent, they have the advantage of being able to pass perfectly as uninfected without genetic testing. Imitators also are generally better at using the body-plan genes of other species to mimic their organs and body structure, producing more accurate recreations with less effort.
Warrior shifters are gifted with efficient metabolisms and faster shapeshifting abilities. It takes a warrior approximately ten minutes to grow any protrusion the size of a human arm– less if the protrusion is smaller, and more if the protrusion is larger or more complex. The reabsorption of any protrusion takes even less time– five minutes for an arm-sized structure to wither away.
Integrator shifters have the unique ability to interface with the nervous system of uninfected organics. To do this, the shifter must both have the genome of the species they are attempting to interface with, and consciously know where that organism's nerves and brain are located. Integrator shifters can "puppeteer" bodies by severing the spinal cord and attaching themselves to the exposed nerve– then sending the appropriate signals down. With enough practice, some integrators have an especially disturbing ability– the ability to somewhat revive and sustain a living or recently deceased brain, and control the resultant consciousness to a limited extent. Consciousnesses sustained in this way are semisapient (similar to buffered minds) but can be questioned, prompted to say certain things, or probed for memories and experience. For example, an integrator shifter, faced with a dead doctor and a badly wounded human, may "buffer" the doctor's consciousness and use their medical expertise to stabilize the human. This knowledge and consciousness vanishes once the shifter breaks connection with the brain. Additionally, no deceased brain may be sustained for longer than an hour before perishing– if the integrator wishes to preserve the consciousness for longer, they must either infect the brain and create a shifter, or brainscan the brain using standard electronic technology. The brains of living, relatively uninjured individuals can be "buffered" and kept for longer than an hour, but they must keep the body alive, intact, and fed for as long as they remain attached.
Drones are the architects of shifter society, possessing both the ability to create large hives and manipulate biomass to interface with electronic technology. They can easily process large amounts of meat into hive biomass in only several hours– this is done by consuming the meat, physically connecting themselves to the biomass, and allowing stem cells to travel to the growth site and multiply, supplying nutrients through their circulatory system. Drones are also the only caste that can 'update' the genome of any hive, allowing other shifters to obtain new genes from the biomass. Drones can also produce pheromones that cause mild anger, fear or sedation in shifters, which is typically used to promote loyalty in subordinates and control husk behaviour.
Royal shifters are an extremely rare caste, characterized by their superior DNA integration abilities and pheromone production. Royals can integrate DNA from very small scrapings of flesh– a sliver of meat or a swab of cheek cells will do, but no less than that– and incorporate it into their body more rapidly than usual. If the royal receives the DNA from less than a pound of meat, they integrate it into their body over the course of two days, but if they receive a pound or more, it only takes half a day for the genome to fully incorporate. Additionally, royals can produce slightly stronger versions of shifter mood-changing pheromones, and are resistant to their effects themselves (drones are not).
¶ Nests and Hives
In addition to shapeshifting their own bodies, shifters can create bio-constructs out of their own tissues. These constructs take two forms– nests, and hives.
Nests are small cultivations of shifter tissue layered on other surfaces, such as dirt burrows, caves, buildings and even in trees or out in the open. These thin, delicate constructions, which vary in size depending on the size of the shifter themselves, serve as biomass storage and a place to rest. All nests contain a cocoon-like capsule that constantly secretes a pinkish slime– which not only dissolves deposited biomass, but removes excess oils from shifter skin and kills bacteria. It is customary for a shifter to sleep inside every night to remain clean, and to rub the exterior of the nest with the slime once a week to keep it sterile. Nest tissue must also be "fed" with approximately two pounds of meat once a week, or else it will begin drawing on its biomass reserves to survive.
Without the cleaning nest secretions provide, excess oils build up on the shifter cuticle and begin to smell foul to other organics, especially other shifters. These oils can also be cleaned off with regular soap and water, but it is common for shifters that don't use nests to clean themselves to be considered dirty anyway. This is partially because every nest has a unique scent depending on the individual that made it, and shifters can tell them apart as easily as a face (uninfected can't, and describe the smell as "blood and bad breath"). When a shifter cleans themselves in nest liquid, they take on this unique odor, allowing them to be easily recognized by others regardless of their appearance.
All shifters can produce nests, regardless of caste, with the exception of husks. The process takes approximately four hours of carefully producing and weaving biomass, then an additional twenty-four hours for the nest tissue to mature.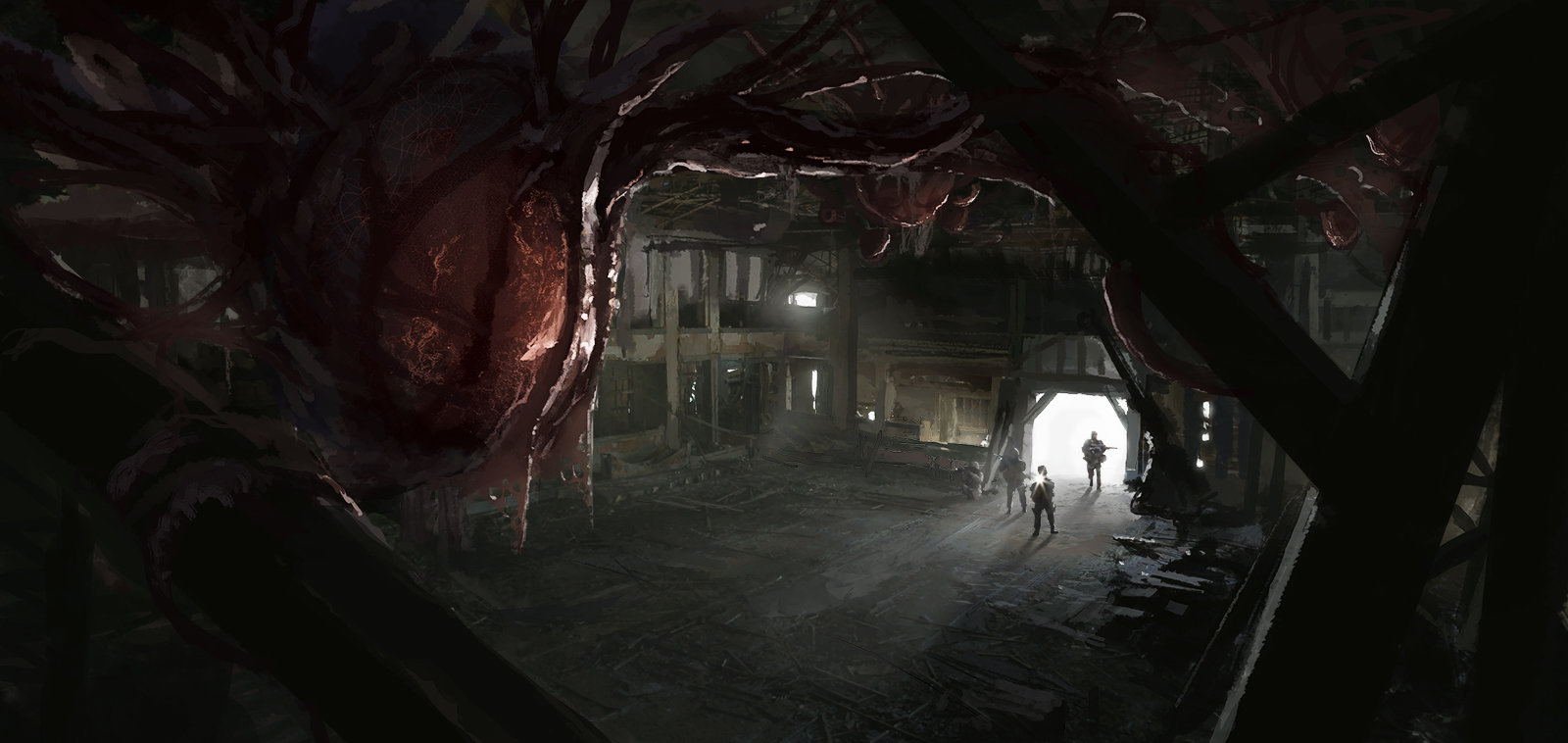 A small cluster of shifter nests, hooked into the ceiling of an abandoned human building.
By Julien Gauthier.
Hives are larger, more complicated biomass structures that can only be produced by drones. Hive biomass is useful in a variety of ways: it's an excellent insulator, produces strong bone lattices for buildings, secretes pheromonal guides that aid in navigation and can even defend against non-shifter attackers through venomous wall secretions. Additionally, unlike nests, hives can have its genome "updated" by drones– and begin growing structures related to those genes, such as skin, hair, organs, or even living creatures.
The nutritional needs of hive biomass varies depending on size and energy expenditure. As long as there are no moving limbs, regenerating body-sections or organs with high nutritional needs, hives are very energy efficient, only needing feeding on a monthly basis– longer, if it has fat reserves to burn.
Hives are just as flammable as sapient shifters, making fire a very serious hazard in shifter colonies. However, they thrive in cold and humid climates.
A robust immune system and inconsistent genome and morphology make shifters fairly disease-resistant. Bacteria and parasites can be easily dispatched with the internal secretion of toxins or enzymes, and shifter cells have a robust antiviral system. This is only compounded by the fact that disease resistance genes can be passed from shifter to shifter as easily as any infectious illness itself. The result is that most widespread illnesses– whether they be the Vampyr FEV or the common cold– are less infectious or entirely ineffective on shifters.
There are a few exceptions to this, the most famous example of which is Holy Fire. Holy Fire was a bioengineered cocktail of bacteria and virophages that functioned by tearing apart shifter viruses, allowing the bacteria to multiply in shifter tissues, and then triggering a high fever that eventually led to the host's death. At the time of the bioweapon's creation, most shifters had an immune system that relied on infecting invaders with the shifter virus– Holy Fire, which was able to bypass this, killed approximately 70% of the total shifter population and destroyed entire cities of hive biomass. Only those with a more traditional immune system survived. The genes that code for constant viral production have never reemerged in the shifter population, permanently crippling the species' infectivity.
Today, holy fire can only kill shifters that cannot produce certain varieties of antibacterial antibiotics– including husks, shifters without the appropriate genes, and individuals at the second stage of viral infection. Hives and nests can be infected, but can survive if a sapient shifter routinely injects them with antibiotics.
Newly infected shifters can, on occasion, suffer genetic disorders from random genetic mutation. The introduction of the viral genome can accidentally mangle an important gene in the host, or some of the material in the viral genome can be lost. As long as the shifter's ability to assimilate DNA is retained, this is easily fixed– but if genes essential to DNA assimilation are mutated, the shifter in question is in trouble.
"Unadaptive" shifters are extremely rare and rejected by shifter society. Their condition is theoretically curable using non-shifter genemodding technology, but shifter genetics and cellular biology would need to be well studied before such a thing could be achieved.
¶ Reproduction and Aging
Shifters are more than capable of reproducing without infecting preexisting creatures. By making use of the genetic code of any mammalian animal, a womb can be formed and seeded with a zygote that is genetically identical to the parent. The rate of growth depends on the parent's nutritional intake, but ideally it only takes one or two weeks before the infant may be safely expelled.
Shifter infants are small, vulnerable and initially nonsapient creatures, with only rudimentary control over their own shapeshifting. The brain portion of their central organ bundle is fully mature from birth, and the point at which they can no longer be considered an 'infant' is difficult to quantify; once they master any language at approximately six months, they behave like an extremely naive, unskilled adult. Most shifters prefer to infect sapients instead of creating their own children to avoid the inconvenience of raising a person from scratch.
Shifters have a natural lifespan of approximately eighty years before they succumb to cancer or general neural degradation. Senile elderly shifters lose control over their physical form as much as their memory and slowly kill themselves as a result; one of the most common age-related causes of death in shifters is involuntary digestive system atrophy, which leads to starvation. Shifter anti-aging medical technology is remarkably primitive compared to the rest of the galaxy; if they were given the level of medical care that most organic core races see, they would likely live for much longer, but this would require cooperation with the galactic medical community– something shifter xenophobia gets in the way of.
The wide variety in shifter morphology makes it difficult to summarize the combat effectiveness of the entire species. However, there are some common traits:
Shifters are difficult to kill with puncture wounds (ballistics, knives) unless the central organ itself is damaged. Shapeshifting allows for wounds to be closed very quickly (preventing exsanguination), and most organs that are important, but not immediately fatal if lost (such as the digestive tract) can be regenerated.
Similarly, blunt force trauma can only kill a shifter if the central organ itself is damaged.
Shifters consume energy and nutrients when they grow or regenerate lost tissue. If a shifter runs out of energy, they begin to starve and either cannot regenerate that lost tissue, or must digest other portions of their body to heal it. Starving shifters will slowly atrophy their body and shrink in size until they're little more than a central organ, shriveled digestive tract and one or two limbs. If they still have nothing to eat after that, they die.
Poisoning is effective in some circumstances. Shifters can easily use alien DNA to build resistances to poisons or venoms, but will only do so if they have a reason to suspect that a specific toxin will be used on them. Fast-acting toxin administered without warning is very effective, as are toxins that the shifter lacks the genes to build resistances to.
Suffocation is effective, and not something a shifter can easily prepare for (unless the suffocating agent in question is water, in which case gills could keep them alive)
Radiation can be fatal in high enough doses. Quantities that would immediately kill a human will also kill a shifter. Quantities that irreparably damage and slowly kill a human can also irreparably damage the DNA in shifter cells, but if any of their stem cell fluid survives, they may be able to regenerate the damaged tissue instead of dying. Imitator shifters have robust DNA repair systems and are slightly more resistant to radiation poisoning.
Shifters contain high quantities of antifreeze in their cells and are very resistant to the cold. Cyro weaponry of any form are generally not effective. Imitator shifters without the cuticle are slightly more vulnerable.
Fire is the most popular anti-shifter weapon, whether administered through incendiary weaponry, laser, or plasma. Shifters catch alight easily and the blaze can spread over their whole body within seconds– even large ones can burn to death in only a couple minutes. Those that do survive will be covered in burned tissue that inhibits shapeshifting until removed. Napalm in particular is a death sentence.
There is nothing a shifter can grow on or inside their body to properly defend against fire (bone is not flammable, but there must be cracks in the armour for the shifter to move and see)– heat-resistant metal armour is typically the only option, and unless custom-made, it comes with the drawback of forcing a shifter to take a humanoid shape.
Note that shifters are weak to fire, not heat in general– there are ways for shifters to adapt to hot climates overall, such as through sweating or increasing the surface-to-volume ratio, but this requires extra effort and makes the colonization of hot planets inconvenient.
Obviously, if a shifter doesn't adapt fast enough, it still can easily die of heatstroke.
The psychology of shifters partially depends on its origin– shifters that were born from infection typically retain the psychology and personality of their former self, though the radical lifestyle changes that come from shifter infection may shape their behaviour more indirectly.
Natural-born shifters are communal creatures. The average shifter household consists of roughly 3-17 individuals sharing a single living space, which is typically small and cramped by human standards. Individuals in these 'family units' are all typically of the same social status; Integrators, imitators, warriors and low-ranking drones will room together, for example. All-warrior households are especially common, especially in military colonies.
Each shifter is expected to use their own nest-pod, and identify themselves using the unique scent its fluids provide. Nest-pods that are in close proximity– such as in a single household– tend to produce somewhat similar scents, allowing housemates to be identified by strangers. If two shifters grow extremely close, either as romantic partners or lifelong friends, they will dab eachother with samples from their nest fluids to mix scents. This is a show of ultimate trust, and is not to be taken lightly; to later betray, harm or kill a scent-kin is to become a kin-slayer, the ultimate evil in shifter society.
Most Ascended Superhive-native Shifters will refer to other infected as "sister," "brother" or "kin," provided that other Shifter is at relatively the same social status as them– Warriors will not say it to Royals, for example. If a Shifter greets a non-shifter this way, it's an indication that they consider this person a close friend.
While a variety of religions exist in Ascended Superhive core regions, Taxxaldmatism is the most popular. Taxxaldmatists believe that the conscious mind and physical body are separate entities, each with their own "gifts." The mind is gifted with the full intellect of a conscious sapient being, while the semi-autonomous physical body is gifted with a "soul"– the genes of every animal the shifter consumes, and the ability to use them. Taxxaldmatists believe that it is the duty of the conscious mind to tend to the body and maintain its health– in exchange, the body will reward the mind with power, vigour and adaptability. The bodies of other beings, too, are to be respected– to allow edible meat to rot is a sin, and shifter funerals entail butchering and eating the deceased in an effort to assimilate their soul and honour their memory. (This last cultural practice is widespread even in non-religious shifters, much to the inconvenience of the gene-regulating Ascended Superhive government. The Superhive deliberately cremates dead rebels and political prisoners to prevent their families from giving them appropriate funerals… but they've also been known to abuse this practice by cremating shifters who have genes that the government doesn't want spreading to their families, justifying this by posthumously labelling the shifter as a traitor.)
Some devoted taxxaldmatists will literally refer to their body as if it were a separate person– to the point of using the plural "we/us" pronouns when describing them and their physical body together, and the singular "I/me" pronouns when referring to only their mind, such as when describing an opinion– ex. "We were injured" vs. "I do not like the colour blue."
More optional portions of the taxxaldmatist religion include ritualized exercise, the expression of certain holy genes (specific scents or colourants, mostly), the displaying of taxxaldmatist symbols on the skin or clothing, and the reading of holy texts. Taxxaldmatists celebrate several holidays, including Harvest Month (the time of year in which several staple farm animals reach maturity and can be eaten. Also sometimes called 'Slaughter Month'), Mourning's Day (the anniversary of the death of any loved one. 'Celebrators' will express any genes they inherited from the consumption of the loved one's corpse, eat a ritualistic meal and isolate themselves from others), and Sereven'a New Year (the new year on Sereven'a, celebrated with dancing, song, and gatherings with loved ones).
The majority of the shifter species belongs to the Ascended Superhive, an interstellar empire just bordering Hylotl space– within and around this area, and inside Civspace itself, shifters are referred to as 'Ascended,' even if they were not born through infection.
The Ascended Superhive is a fascist dictatorship, holding near total control over every aspect of its citizens' lives. Speaking against the ruling elite, attempting to leave the empire, unauthorized gene sharing/integration and even being suspected of being a political dissident is enough to warrant an immediate death sentence.
Shifters in the Ascended Superhive are divided into one of three social classes; worker, enforcement and elite classes. Workers, making up approximately 89% of the population, consist of imitators, integrators, and the majority of drones and warriors, and lack any freedom or individuality in the eyes of the government– they are regularly resettled through the empire and have their line of employment picked for them. This employment can range from research to hard labour, although drones are more likely to work in building and manufacturing, warriors are more likely to be soldiers and imitators and integrators are occasionally drafted to gather intelligence on enemy organic nations.
Enforcement shifters, making up 10% of the population, are responsible for keeping the workers under control. They consist of drones, who sedate the population with emotion-influencing pheromones and nationalist propaganda, and warriors, who sniff out and execute dissenters. In exchange for this, they are typically given special privileges by the ruling elite, such as better housing and access to cosmetic genes.
The ruling elite, making up the remaining 1%, are drones and royals. These are the aristocrats, military elite and government officials of the Ascended Superhive. At the very top is the dictator, currently Potentate Slks'aliktor Many-Red-Teeth-Above, and their genetically identical heir, Slks'aliktor Fifteen-Eyes-Blue-Flesh II. The elite, provided they remain totally loyal to the Potentate, are free to do as they please; travel, employment and gene expression is totally unrestricted, and life is luxurious. The majority of the higher-ranking elite, including Many-Red-Teeth-Above themselves, reside at the Ligament Palace– a massive hive structure located on the Ascended Superhive's capital, Alephi'kalex.
While the empire's control over its citizens is brutal, it is far from all-powerful. Several underground gene exchange rings exist, and there have been the occasional attempts on Many-Red-Teeth-Above's life in recent decades. The lack of rights in the general population and increasing unpopularity of the Ascended Superhive in neighbouring regions has made it more and more difficult to recruit new infected, and backlash from both civspace and fringe powers has slowed the empire's expansion to a crawl. Even worse, the recent release of Holy Fire has utterly decimated the empire, inside and out– what remains of the population is growing more and more difficult to control. The future of the Superhive remains uncertain.
The Ascended Superhive is the largest, but not the only shifter civilization to exist. Isolated worlds several jumps away from Ascended territory exist in the Fringe, and there are smaller communities of infection-born shifters in some regions of civspace. The culture of these areas tend to be much tamer than the Ascended themselves, with either more relaxed rulers or tentative direct democracies. However, due to the increasing unpopularity of the shifter species in the region, most of them are forced to isolate and be self-sufficient.
Most Shifters in the Ascended Superhive are xenophobic and hypernationalist, with the strong belief that uninfected organics are either innately evil or nonsapient. Even shifters born to infection can eventually be indoctrinated into this line of thinking, especially if they have beliefs that can be twisted to the Superhive's benefit, ex. "The Virus is a gift from your God."
Even those that dislike the oppressive Ascended Superhive are not necessarily fond of other species. The careful control of information in core Superhive planets make it difficult to learn any information about uninfected that puts them in a positive light, and footage and horror stories of the violence shifters face from uninfected are broadcasted constantly. The result is that most shifters that wish to overthrow Many-Red-Teeth-Above's rule don't consider getting aid from outside forces to be an option. This attitude is only further cemented by the fact that Holy Fire, a bioweapon manufactured by uninfected nations such as the UACC, has killed billions of innocent shifters.
Robots and Glitch are generally regarded with neutrality by most shifters, since they can't be infected and there are no major robot nations the Ascended Superhive is fighting against. Novakid are feared and hated for their tendency to light things on fire.
¶ Art and Music
Shifter art is as rich and diverse as that of any other species. Carving and sculpture are universally popular art forms– common materials are stone, wood, ice and bone. Bone carving in particular is a cultural favourite, and different significance is found in the resulting artwork depending on if the bone was from an uninfected animal, or safely grown from a shifter. Artwork carved from living shifters are referred to as Cali'xa in the shifter language, artwork from uninfected animals are Cali'nara, and carvings from the bones of dead shifters– often created to remember the deceased– are known as Eli'seph.
Shifters also enjoy dancing, music, and song. Most shifter music is deep and guttural, with the occasional high note. Commonly used are wind instruments carved from bone, string instruments made from processed organs and drums from stretched skin. The making of these instruments themselves is also considered an art form, with some shifters dedicating their entire life to the craft.
Music is a part of everyday life in shifter culture, especially during working hours. There are dedicated songs for every career and important activity. There are funeral songs, songs to play during manual labour, songs to play during hive assembly, songs for the battlefield, surgery songs, songs to sing or hum when preparing a meal and songs to sing when creating art. It's considered inappropriate for any one shifter to not know at least a couple popular tunes by heart, and be able to sing along. To an outsider, much of this music sounds more like rhythmic groaning and screaming than a cheerful space shanty, especially when no instrument other than the shifter voice is involved.
There are also many shifter art forms that are expensive or require rare genes, and are therefore restricted to royals and other high-ranking shifters. These include fashionable gene expression, painting with high quality pigments, pit-fired ceramics, biomass sculpting and perfume creation.
Food is a very important part of shifter culture. There are many categories of shifter cuisine, each with its own word:
Kal'zevik is fresh meat, harvested from animals,
Kal'evid is sun-dried animal jerky,
Kal'evic is pickled, chemically preserved, or rotten animal meat,
Chau'evin is fresh meat from a living shifter,
Chau'evid is fresh meat from a dead shifter, often reserved for funerals,
Chal'ed is fresh meat from the biomass of a hive,
And Evek is plantmatter or fungi.
Chal'ed, Kal'evid, Evek and Kal'evic are the most easily accessible foods. Kal'zevik is slightly more difficult to acquire and is eaten as a special treat among the general populace. Chau'evin is a luxury reserved for royals.
Raw shifter cuisine is typically sliced into visually appealing shapes and sprinkled with spices and body fluids for flavour– if bones are present, they are sometimes carved by artists. Sun-dried meats are also sprinkled with spices, and sometimes immersed in water before serving. Kal'evic requires the most preparation, and also holds the most variety. Specialized fungi may be intentionally grown on the surface of the meat, or maggots and other insects associated with rot may be considered a delicious addition to the dish. Shifter-secreted bile and gastric juices may also be added to tenderize the meat, or even liquify it into a soup– traditionally, shifter soups are drunk from leather 'waterskins.'
Compared to that of neighboring species, shifter technology is very primitive. Shifters traditionally used a combination of their own shapeshifting abilities and hive biomass to achieve their goals. This results in a strong understanding of biology, medicine and excellent "smart" bio-architecture, but all prevents them from independently developing any technology that requires complex electronics or specialized materials to function. Artificial intelligence, modern space travel, metallurgy, long-distance communication and most nanoengineering was once totally out of Shifter reach– until they stole it from other species, that is.
Shifter scientists understand PDAs, starships, tachyonic transmitters and nanobots, but generally lack the infrastructure to manufacture it on a large scale. The high-temperature nature of metallurgy is a large obstacle, so for the most part they prefer to steal it from neighboring species, or take over their manufacturing facilities. This limited method of acquiring technology means that items that are commonplace in most modern nations are luxuries in Shifter societies. It is rare to find a shifter commoner that owns a smart tablet or electronic vehicle, for example.
Ever-adaptable, Shifters do excel at working with what they have. They've long since perfected the art of meshing shifter biotechnology with electronics, allowing them to be manipulated by signals from hive biomass. Stolen ships are often infused with living tissue for ease of operation, and shifters can even attach robotic limbs to themselves like prosthetics. There have even been cases of shifters operating robotic bodies like miniature mechs, swapping out the AI core for a central organ and the bare minimum bodymass required to survive. Given enough time and resources, there is very little a shifter engineer cannot hack, modify or merge with specialized biomass.
The shifter species originated on Sereven'a, the Ascended Superhive's most populated planet. Very little of their evolutionary origins are known or remembered– the shifters themselves have documented very little, the majority of their homeworld's former biosphere has been infected or driven extinct, and the inconsistent body plan of shifters and their ancestors make the fossil record near useless past a certain point.
What is theorized is that the shifters' characteristic ability to incorporate alien DNA into their own genome evolved first– structures that were used for sexual reproduction became an intraspecies mechanism for sharing immunity to disease, then sharing genetics overall, then interspecies gene transfer. The subsequent rapid incorporation of genetic material twisted this ancestor species beyond all recognition. It was what eventually granted them their other distinctive traits; shapeshifting evolved from heavy modification to how the body "updates" the genome and tweaks gene expression, sapience came from the incorporation of genes from a proto-sapient aquatic creature, and the infectivity of the species came after a virus made an unusual error when infecting a shifter stem cell.
~2,000,000 BC: A glacial period begins, reducing global temperatures and covering Sereven'a in ice. Organisms unable to adapt to these new subzero temperatures quickly go extinct.
~1,900,000 BC:The ancestors of modern shifters move from their subterranean habitats to the surface and flourish.
~330,000 BC: First evidence of Shifter intelligence– tool use (in the form of shapeshifted body parts.)
~310,000 BC: First evidence of Shifter viral infectivity.
~300,000 BC: First instances of Shifter art– carved stone. It's believed that Shifters made art before this period, but mostly out of temporary materials such as flesh and ice.
~280,000 BC: First biologically modern biomass structures observed.
~200,000 BC: First complex cities observed.
~160,000 BC: First evidence of animal keeping.
~120,000 BC: First evidence of plant and fungus farming.
~90,000 BC: Several staple animal species are domesticated.
~40,000 BC: Genes for a new, especially strong variety of bone are discovered and distributed.
~10,000 BC: First proto-writing.
~5,000 BC: First writing.
~3,000 BC: Fired clay is discovered.
~2,000 BC: Earliest known wheeled structure, a wheelbarrow-like tool used to transport meat.
~1,500 BC: A massive catacomb containing the remains of over ten thousand shifters is constructed and filled over the following centuries.
~1,200 BC: A holy book significant to the Taxxaldmatist religion is written, outlining several death rites that are still used today.
520 BC: A large southern continent empire, culturally significant because of its large population of ancient Taxxaldmatists, collapses following a series of crippling wildfires, wars and famine.
341 BC: Ast-xel'il, a Royal shifter born in territory that used to belong to this collapsed empire, seizes control of land occupied by a neighboring nation and forms a small, unstable raider empire.
283 BC: Ast-xel'il dies at age 67. Their nation shatters, beginning a century-long period of civil war. Millenia later, it's theorized that Ast-xel'il was one of the first Shifter royals to use pheromones to gain popularity– the genes for this did not exist before.
170 AD (Every date after this is AD): Quev-la, a poet, travels the known world and extensively documents every shifter-expressed gene they encounter, providing an invaluable resource to future historians.
192: A northern continent nation successfully seizes its neighbor's capital city after disguising its army as a flock of domesticated animals.
200-300: Several forms of metallurgy and metal-shaping tools were invented over the second century. It sees limited use due to the pronounced danger presented by extreme heat.
241-290: A virulent bacteria, extremely resistant to the standard immune system used by Shifters at the time, causes an epidemic in southern and western regions of Shifter civilization. Survivors ward off disease by constantly producing the virus within their body, infecting anything that enters. This immune system strategy would eventually be the Shifter species' near-undoing with the introduction of the Holy Fire bioweapon over three thousand years later.
420: A primitive bio-clock is invented.
531: Explosive charges made of shifter flesh are invented and quickly weaponized.
565: A reliable method of intentionally producing husks from infectees is invented.
624: Northern Shifter civilizations experience a mild technological revolution– more modern medical procedures are adopted, emphasizing hygiene, empathy, and husk experimentation.
741: Firestarters that concentrate sunlight in organic lenses are invented.
974: Automated biomass mines are invented.
1100: Primitive guns are invented.
1304: The compound microscope is invented.
1331: The physical cell structure responsible for genetic code is discovered: DNA.
1558: The mechanical calculator is invented.
1735: Genes that increase the efficiency of hive metabolism are discovered, allowing larger, more energy-intensive structures.
1832: Photosynthesis becomes popular in Hive construction.
1902: Electric wiring is invented.
1940: Large-scale biofuel-powered rockets are invented.
1987: The first living Shifter enters orbit.
2018: The electromagnet is invented.
2019: Living screens that display pre-recorded messages are invented.
2024: The first primitive biocomputers are invented.
2070: The first living Shifter reaches their home planet's moon.
2130: A moon colony is established.
2142: Following cultural tension and disagreement over who has control over the moon colony, a major war breaks out between allied eastern and western nations.
2194: The war ends, with the eastern nations the victors. Western territory is divided among the remaining nations.
2230: One of the major eastern nations successfully assassinates the democratically elected leader of its equally powerful neighbor, then seizes control in the resulting chaos. The Serez-ex Superhive, named after the Royal in control at the time, is founded. The Serez-ex Superhive goes on to invade the rest of the major nations.
2257: The Serez-ex Superhive claims global control.
2259: Serez-ex dies. The Superhive's name remains; their memory is leveraged by the following dictator to keep control over the populace.
2284: A second moon colony is established.
~2300: Modern Shifter concepts of hygiene, such as the need to bathe in nest-fluid daily, are popularized.
2308: A rocky planet closer to the local star is colonized.
2410: Some of the fundamental principles of Warp travel are theorized on, but a drive is never assembled.
~3100: The Taxxaldmatist religion steadily regains popularity over the following century.
3103: First contact is made with the Hylotl. Over the following century, advanced electronic technology is rapidly traded for– then, as the Hylotl become more xenophobic due to the 'Floran menace'– stolen.
3210: A variety of the Shifter virus that can infect Hylotl cells is discovered. Dictator Aliph'sa, seeing the potential value in infecting Hylotl and other species, launches a campaign for the systemic abduction and infection of Hylotl colonists near its territory. The Hylotl empire notices, but is too focused on anti-Floran armaments to devote its resources to retaliating.
3213: The Serez-ex Superhive seizes a large Hylotl colony in the Fringe, renames it 'Alephi'kalex,' and designates it as the new Serez-ex Superhive capital.
May 7, 3247: Aliph'sa rebrands the Serez-ex Superhive as the Ascended Superhive, or the 'Ascended Empire' as it is known in some neighboring civilizations– and crowns themselves as its Potentate. A tighter control is placed over the everyday lives of citizens, and the rebranded Ascended Superhive becomes noticeably more authoritarian.
October 11, 3252: Potentate Aliph'sa dies. Their heir, Keartu, takes over.
September 4, 3253: The Ascended Empire launches a series of especially aggressive attacks on twelve neighboring Fringe colonies. This is the first of what will be dozens more attempts to invade neighboring civilizations over the upcoming decades.
April 21st, 3284: The Fringe city of New Montreal is sieged by a fleet of Ascended Superhive ships, resulting in further Shifter activity on Fringe-CivSpace borders.
June 15th, 3284: Corrav, a district of the Haven Federation, is put under a full lockdown and quarantine after an outbreak of Shifter virus begins to ravage its citizens.
June 19th, 3284: The Hylotl Empire makes a public declaration against all Shifter activity along CivSpace/Fringe borders, threatening total war against the Ascended Superhive if they continue any attempts to push their territory further into the United Coalition of Empire's land.
June 20th, 3284: A popular Haven City nightclub, Club Solus, is forced to shut its doors for several days after one of their own employees infects the pool and refreshments with the Shifter virus. Said criminal is captured due to the diligent work of civilian vigilantes and the Haven Guard a few days later.
June 20th, 3284: "High Ascended" Keartu responds to the Hylotl Empire's demands, pulling back all Ascended Superhive activity from CivSpace territory.
June 25th, 3284: In response to the concerns over government officials being corrupt, working against Haven in their efforts against the Shifter virus, Grand Protector Von Quinn makes an executive order demanding blood tests and background checks for nearly all government officials in all branches.
July 17th, 3284: In the span of a day, Former Senator Saif Cassio and High Commander Kate Bradshaw of the Haven Federation betray the citizens they'd been sworn to serve, allowing several craft of the Ascended Superhive to invade the Corravian Skies, and the fledgling Hive in Corrav to receive military support from this invading fleet. In a last resort decision made by the Senate, the collapsing district of Corrav, which had largely been evacuated by that point, is obliterated in a series of kinetic bombardment strikes, instantly destroying the Hive and several in-atmosphere Ascended craft. The sapient infected of the District who had remained behind during the previous weeks to fight the Shifter threat perish as heroes.
July 19, 3284: Holy Fire, a highly infectious anti-shifter bioweapon developed by UACC, USCM, and Roji scientists is unleashed on the Ascended Superhive. It spreads rapidly, killing millions within weeks.
August 2, 3284: Potentate Keartu dies of Holy Fire infection. Many-red-teeth-above, a high-ranking Royal general that modified their genome to survive Holy Fire, seizes the Ascended Superhive as the new Potentate and immediately begins distributing Holy-Fire resistance genes to their inner circle.
Early September, 3284: The worst of the Holy Fire pandemic dies down as more and more Shifters either die or receive immunity. The Shifter species is permanently altered: the virus is extremely infectious no longer, and can only reproduce in specialized Shifter spines instead of the entire body of the infected. In total, 70% of all shifters in the galaxy died to the pandemic.
Early November, 3284: Many-red-teeth-above declares that they will seek revenge for the attempted genocide of the Shifter species, and begins raiding smaller colonies near the devastated Superhive's borders.
November 23rd, 3284: Atlas declares war on the Ascended Superhive.
February 10th, 3287: Markus Alexander, the Praetor of Atlas and a Haven Senator, is assassinated on his personal ship. The official investigation reports it was the doing of a 'shifter sleeper agent.'